Bring the moon out of the sky and light up the heart of your loved one!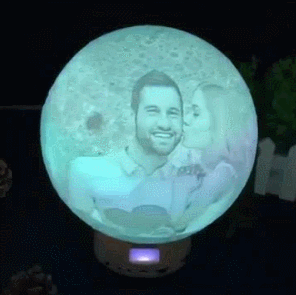 With Magic Lunar's customized Bluetooth speaker moon lamp, you can keep your love and other happy memories literally illuminated for a long time to come. 
With a custom-made Bluetooth speaker moon lamp, you have got the perfect Christmas gift for all your friends and family. And it will definitely make her shriek in excitement when you get a customized Bluetooth speaker moon lamp as one of the birthday gifts for her!
MOONLIGHT SPECIFICATIONS:
Moon Bulb: LED
Diameter:15CM/18CM/20CM
Wattage:1W
Power Supply: USB DC 5V
Product technology: 3D printing
Light control type: Touch control/Remote
Battery type: Polymer lithium battery
Battery Capacity: 500 mAh
Charging Time: 4-6 hours
Lighting Color: 2 colors/16 colors optional
Material: PLA
Material Feature: Environmental&non-toxic
Working Time: 6-30 hours (depends on the brightness you choose)
BLUETOOTH LIGHT FEATURE: 
Wireless Bluetooth Music Player, connect the speaker with your Bluetooth enabled devices such as your smartphone, tablet, laptop and computer to play music or radio, more energy-saving
Support TF / Mirco SD Card to play your preloaded music
Color Gradient: Colorful lights free adjustment
Sleeping Modes: The LED lamp can be a night companion when to adjust to low light
Clear High-Quality Audio, designed to deliver great sound and eliminate the distortion even at maximum volume
Up to 7 hours of playtime from a single charge of the rechargeable battery allows you to play all-day
Beware of cheap knock offs selling fragile designs with non-compliant rechargeable batteries (very dangerous for your home!)
Our 3D Moon Lamp is the only one on the market with a uni-body (single mold) design and is FCC, CE, and RoHS certified so you can rest assured that it's tested, approved, and 100% safe!
Note: If you want a better quality image, Please upload minimum 1000*1000 resolution image. 
When ordering more than 1 product, please follow the steps below:
Upload the 1st picture and click 'add to cart'
Go back to the page of the product
Upload the 2nd picture and click 'add to cart' again
If you want to add another product click continue for shopping
Package Includes:
1 x 3D Moon night light
1 x USB Charging Cable
1 x User Manual
*@**@*1086935